Cats' Inn Grooming & Boarding
Cats' Inn Grooming & Boarding offers short and long-term boarding and on-site or in-home grooming. We have been caring for your best friends since 1997! Our owner, Lynn Tezak, provides personal care for all breeds and welcomes special needs and diabetic felines. Caring for cats is my passion, and I'd love to meet your furry friend!
The Purrfect Place for Your Friend in Geauga County, OH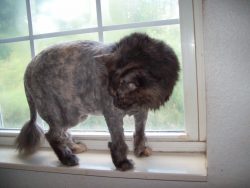 At Cats' Inn Grooming & Boarding, we know pets are part of the family, and we care for them with this in mind. Our clients love the security and attention provided by our professional pet caregivers. We offer personalized attention, including care for special needs and diabetic cats and medication administration. The owner lives on the premises and is passionate about delivering first-rate care for your cat. Whether you are out of town for a weekend or need to leave your cat in extended care during a crisis, you can rest assured your friend is in good hands with our quality cat boarding in Geauga County, OH.
As a member of the Professional Cat Groomers Association of America and a Certified Master Cat Groomer, Cats' Inn Grooming & Boarding is your go-to cat groomer in Geauga County, OH. Our groomer will travel to your home to provide professional grooming for your cat, or you can bring your furry friend to our facility. Services include lion cuts, nail trims, mat treatment and bathing. We only use proven, safe methods for grooming that leave your cat looking and feeling their best. When you want loving treatment for your friend, contact the pet professionals at Cats' Inn Grooming & Boarding. Visit our facility by appointment and experience our many benefits, including:

We are locally-owned and -operated, and the owner lives on-site.

Special needs and diabetic cats are welcome. We're trained to tend to the needs of all kitties!

Grooming can be done at our facility or in-home.

Boarded cats stay in a large one or two-floor cage with shelf and are allowed to come out and explore.
We Treat Them Like Family
For loving, expert care, contact Cats' Inn Grooming & Boarding for your cat's next grooming appointment or for a safe and secure kitty-vacation while you're away.
Proudly offering Cat Grooming and Boarding to the following areas:
Newbury Township, OH
Chardon, OH
Burton, OH
Middlefield, OH
Huntsburg Township, OH
Windsor, OH
Hambden Township, OH
Munson Township, OH
Claridon Township, OH
Parkman, OH
Chesterland, OH
Footville, OH
Chagrin, OH
Mentor, OH
Kirtland, OH
Chardon, OH
Mayfield Heights, OH
Grand Falls, OH
Danbridge, OH
Lyndhurst, OH
Richmond Heights, OH
Cleveland Heights, OH
Warrensville Heights, OH
Chesterland, OH
Mantua, OH
Russell Township, OH
Novelty, OH
Gates Mills, OH