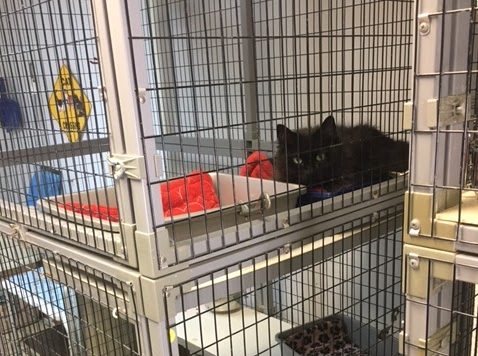 Travel can be tough when you have cats. Whether you're going away for business or vacation, it's never easy to leave your cats behind and contrary to popular belief, even if you're just going to be gone for the weekend, your cats should not be left on their own.
No matter how long your trip will be, here at Cats' Inn Grooming & Boarding, your cats will feel right at home. Plus cats with special needs, elderly cats, diabetic cats, and cats who need medication administered are all welcome at no extra charge. Our feline caregivers are specially trained in cat boarding services and can give cats their regularly scheduled medications, supplements or subcutaneous fluids. Our cat grooming services also include cat nail trimming, bathing, cuts, de-matting, and much more.
We offer a variety of cat boarding services at our facility including:
Short-Term Boarding: Our short-term cat boarding services are perfect for when you need a safe and comfortable place for cats to stay while you go away for vacation, a business conference, or you're having houseguests stay who are allergic to cats. Short-term cat boarding is perfect when you're going to be gone for a month or less.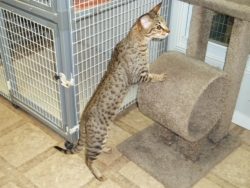 Emergency & Disaster Boarding: When there's a natural disaster, or your house catches fire, what do you do when your short-term housing won't let you bring your pets? Most home-owners insurance policies cover the cost of boarding your cats until you can move back into your old house or get into a new one.
Long-Term and Crisis Boarding: When you're suffering a financial crisis or have to go into the hospital or a nursing facility for an extended period of time, it can be heart-wrenching to think of the prospect of surrendering your beloved cat to a shelter or rescue facility. But here at Cats' Inn Grooming & Boarding, we offer a better solution. We offer steeply discounted cat boarding rates for cats staying with us for longer than a month due to a personal or financial crisis such as foreclosures, eviction, long illness, etc. Long-term boarding is also a great solution if you're going on an extended vacation, are working abroad for longer than a month, or you've been deployed overseas.
When your cat comes to stay at Cats' Inn Grooming & Boarding in Cleveland, OH they'll feel comfy in a large one or two-floor cage with a shelf to perch on. They can come out and explore if they want, or hang out inside their cage. It's always up to them. You just bring your cat's food and any medications. We provide the kitty litter, litter boxes, blankets, and toys. Please note: all cats who stay with us must be current with all their vaccinations.
When you need a home away from home for your little friend, contact Cats' Inn Grooming & Boarding. We offer top-level care, from short-term to long-term cat boarding services in Newbury Township, Burton, Cleveland, Beachwood, and Chesterland, OH. And don't forget about our top-notch cat grooming services from our master groomers. Contact our pet experts today at 440-596-8347 to schedule your next appointment.